V12 ALLOY SWB PROJECT
16th April 2013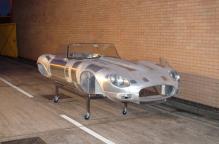 In 2006 a customer of mine asked me if we could build an Alloy Bodied V12 E-Type OTS.

We had built many challenging E-Type Projects over the last few years but this Project would test our skills and knowledge to the full. To add to this he informed me that he would like to shorten the wheel base by 4".

I said in principle we could do this, and set the ball rolling!

This Project meant Tooling almost everything from scratch as we had nothing for the Series III E-Type, not like the Series I where we had plenty of Tooling and Jigs from the past 42 years of Restoration.

We did have a stroke of luck though, just at this time we had taken on a Body Restoration of a Series III OTS for another customer which was pretty rotten.

This meant we could get right inside the core of the monocoque as we were repairing, restoring these areas and obtaining the vital information we needed to build the Alloy Shell.

We had to put some serious thought into the strengthening and structure of the monocoque as this car was going to be running a 500/600 BHP engine with masses of torque.

One of my guys came up with a very complex and strong Inner Sill Strengthening Section which was tied into the Front Engine Frame and Rear Chassis Leg Assembly, this worked out very well.

We also had to increase the height of the Bonnet Blister to accommodate the down draft Weber Carburettors which were going to be used.

The width of the Rear Arch's was widened to accommodate the wider track where specially made Borrani Wheel would sit.

We modified the Door Area and Hood Frame to allow for the 4" SWB adjustment. The customer also commissioned an Alloy Petrol Tank to reduce the weight further and with this bolted in the car produced a 210kg Body Shell, quite amazing when we had increased the gauge of the Alloy Panels in some areas by two.

The end result was a very beautiful and proportioned car. You can see this in our gallery under "Special Projects".
< Back to the main News & Events page