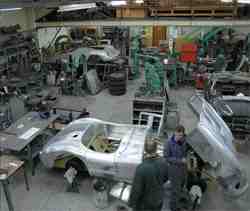 Nestling in the Midlands is one of the best in the business.
RS Panels was started nearly 50 years ago by Robert (Bob) Smith as a small business venture. Today, the work that they produce is in greater demand than ever. How did it all start?
General view in the RS Panels' body shop, showing Lightweight and Low-drag E-Types and XK-SS bodies
"I started as an apprentice in town with a small family business, nothing to do with cars, it was just pure panel beating. Manufacturing panels for small production stuff nothing really large," recalled Bob. "The sort of thing that was going on when I first started was the first Reliant, which was all aluminium at that time. It was a real weird-looking thing with three wheels. They were doing production runs on those, I suppose about twenty sets of panels a week. So that was quite a bigish job. They had been making Lea-Francis bodies and there was the tail end of that work, spares such as wings and that sort of thing. We made bus canopies, in those days buses and coaches were aluminium panels, so the front and rear canopies were shaped. We did a lot of that.
"At a later stage we did the Morris 1000 Traveller; the roof from the cab back was aluminium.

James and Bob Smith of RS Panels
That was about thirty a week, all made by hand. It was that type of work and we were involved with prototype work for MG and manufactured the first five sets of body panels for the MGB, all by hand of course. We also built three all-aluminium body shells for MG Midgets, for works' drivers like Dick Jacobs. They were very streamlined for racing and over the years I have tried to find out where they are, it would be good to see one again. We also did the mod for the MGB that raced at Le Mans, with the streamlined nose. We never had cars, apart from the MGB and Midgets, on the premises, but generally it was all panels no complete cars."
Bob was surrounded by metal and parts of cars that were exciting to work on, naturally this rubbed off on an already enthusiastic motorist. He joined the local motoring club at the age of 18. "The first car I bought was a 1936 11/2-litre SS Saloon, so I went straight into it at the deep end!"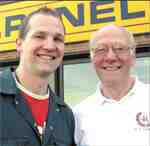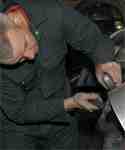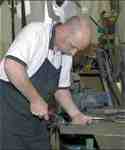 This looks almost like the experimental shop at Browns Lane in the 1950s, apart from the Ferrari 250 in the background
Having served his apprentice and gathered an excellent working knowledge of sheet metal work and with an acute sense of business, Bob decided to go it alone. In 1964 he formed RS Panels and went into crash repair work. "I had been doing various jobs around two or three various local garages after work and knock dents out of things. One of the lads in the motoring club had a Volkswagen agency in Hinckley, which is near Nuneaton, they seemed to have beetle bonnets and wings that always seemed to have dents that needed knocking out. It seemed to make sense when I decided to go on my own to go into crash repair work. There was none of this sort of work, what we do here now, going on then. There were one or two people doing work on pre-war cars, Bentleys and Rolls-Royces, that sort of thing. But there was not the volume of restoration work like there is now. It was always my intention to get into this sort of work. I went in to crash repair work and before you know where you are it snowballs and you have quite a big thing going on,and then you don't even think about what you wanted to do initially." Bob's first premises was a lock-up in a garden that was just large enough to take a car to work on. "I was doing all the work, including the spray work. It was cellulose so easier than today's paints. There was no room in the garage to paint the car, so I did it outside. Luckily it was a good summer in 1964!" While that was fine for the summer, it could not work in the winter, so Bob looked around for larger premises.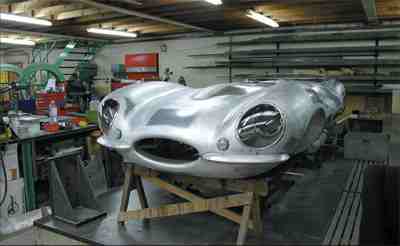 A local brickworks had some redundant buildings and he took that on and stayed some twenty years. "The first person I employed was someone to do the painting and I could concentrate on the panel work. Over the years, more buildings became redundant on the yard and they tidied them up for me. So I was expanding the business as work demanded."
Work built-up and Bob started to get into restoration work. "The first thing I got involved in was a crashed Aston Martin DB5. Someone had shunted it up the rear and it was written off, but it was a fairly easy repair and we could get some of the parts from the factory. From there I started to get more involved, and I'm not too sure how it all came about. We started being asked to do that sort of work; we took on a DB4 GT for a friend, which was a major body and paint restoration job. That was when it started going with restorations, and we did work for Robin Hamilton, Astons again, and people got to know what we were doing."producing some of the best work around and apart from the Aston Martin work, Bob got involved with Jaguar E-Types. They had only been around for a few years at the time, but things get bent and need repairing. "This was about thirty-five years ago and the next phase of the business was starting the sheet metal work side. Making body panels, up to that point I had not got involved in that." The first body panels they were commissioned to do was the Lister, they made a complete bodyshell. Bob recalls, "The first body jigs that we made were for XK wings and also the Lister. Because of the work that was now coming in I decided I needed to get more workers in as panel beaters. The first person was someone I had worked with when I was an apprentice and he wanted an incentive to join me. So I set up another business; we had RS Panels so to distinguish the new Company I called it RS SVV, which stood for Sports, Veteran and Vintage. This was in partnership and separate from RS Panels. My son James now uses RS SVV."
Jaguar XK engine, as fitted to E-Types at RS Panels
More metal work came in and Bob began taking on more staff to deal with the panel work. Bob acquired another building in the brickyard to accommodate the extra work, but even this was not enough and he looked around forlarger premises. "I had an uncle who was in Hinckley, a few miles from Nuneaton and he had a business where he had just moved out to take arger premises and he owned the unit. It was about 5,000 square feet, and I moved the sheet metal side into that, leaving the crash repair work where it was."
Business continued to expand and then Bob was awarded a major contract that gave RS Panels a new profile. "We started to build Jaguar D replicas for Lynx. The first body was built by Jensen, they also built the body jig. Lynx came to me as they had seen one of the Lister bodies we had made in bare metal. The body that Jensen had made was really not that good, they had made a cracking job of the jig, but their metal work was really not up to scratch. We spent a bit of time tidying it up and then carried on with the production. I think we made about 25, all the production until about 1982 when production stopped."
RS Panels did not just make replica D-Types, they also worked on the genuine article. "We were also involved in quite a few original cars because Lynx were getting original D-Types to rebuild and needed body repair work. So we actually built quite a few bodies for them, those that been crashed. We were given the monocoque that we took apart and used what we could, sometimes a tail or a bonnet was required. Any D that was going through Lynx that needed body work was done by us.
"We were involved with all sorts of things, I remember we did an Aston Zagato and we did a couple of DB3Ss and that sort of thing. The business had grown and we took on extra staff, but I was running two businesses four miles apart. It worked out alright, but by about 1980, I thought we should have both businesses under one roof." Bob began to look around for premises large enough to accommodate the workforce that he could rent. However, when he costed it out, he realised that paying rent was not the answer, he needed to own his building outright.
"I worked on the basis that if I could get a loan from the bank and build my own premises and not be paying them back any more than I would in rent, then I'm on a winner. It made sense, even though I committed myself to the bank, at the end of it I would have something." Bob looked around and found a plot of land in Nuneaton which was owned by the local County Council. They agreed to sell it and he set about contracting the construction out, but organising the interior layout as he wanted it. "It is split into two equal parts, 5,500 square feet in each. One part is the sheet metal side and the other is the paint and restoration side. We have a showroom and above it is a work area. I wanted to have a frontage rather than just a wall."
RS Panels had a full order book when they moved and a staff of twenty-two skilled workers.They took on work from all quarters, some more interesting than others. Bob remembers with affection the late Bob Jankel. "He had ideas that did not always progress further than a prototype. We converted a Jaguar XJ40 into a two-door Coupé; he was going to offer that as a small production run, but after the prototype left here nothing more was heard. We also began a conversion of an E Class Mercedes into a six-door limousine, that too was not progressed before Bob's death."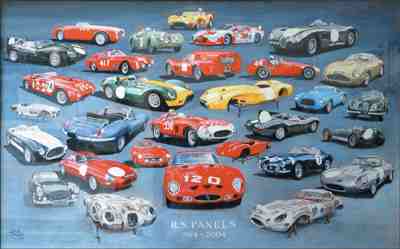 Good view of a Low-drag coupé and Lightweight E-Type in the bodyshop
It is for his Jaguars that Bob is probably bestknown. Over the years, apart from the D-Type, RS Panels have made bodies for the C-Type, XK-SS and Lightweight E-Type. RS Panels has also made complete Jaguar XK 120 ash frames and bodies for restoration projects. "We have made other bodies, such as the Ferrari GTO, Testa Rossa and 250 Pontoon among others. I think we have made as many Ferrari bodies as we have Jaguar bodies. We make all the jigs ourselves and they are accurate. A panel from us will fit a genuine car without modification." In fact the quality that RS produces far outstrips the originals in many cases. This is to be expected; many cars from the 1950s and 1960s would not have had such time and effort lavished on them as the craftsmen at RS do. Bob has been fortunate with his workforce; they are dedicated and will work on a project for as long as it takes. There is also enormous pride in the work that RS engineers and metal workers turn out, they really care about what they are doing and delight in the finished product. Proof that they enjoy working for Bob is evident, as he remarked, "I give gold watches out for twenty-five years service and I have given five so far. We must be doing something right."
Bob's son James has taken on much of the mantle at RS, but Bob shows no signs of retiring, as he puts it, "I take it slightly easier now" but he is still in at eight in the morning and works until six. Nearly complete is Bob's project for himself, asuperb E-Type Coupé, with custom-built air conditioning and a five-speed transmission.
Bob has lost none of his enthusiasm for the business he started in 1964, he relishes being around cars and likes nothing better than talking about them, when he is not working on them that is! His son has inherited father's enthusiasm and is preparing a Lightweight E-Type – made by RS – for racing in 2007.
It is heartening to visit a family enterprise that takes such pride in their work and enjoy the respect and patronage of almost all the important classic car collectors in the world. Next time you look at a Jaguar that has been restored, chances are that RS Panels provided the bodywork and maybe the mechanical elements also